Today's IP based PBX telephone systems are highly programmable and affordable. VoIP Phone Systems reduces cost for equipment, lines, manpower, maintenance and services. They allow even the smallest business to have the same functionality as large scale corporation telephone systems and have sophisticated features that even large scale corporations wish they had.
Whether your organizations is a small home based business, or a large corporation with hundreds of employees spread around the world, we have a flexible, scalable and reliable telephone system to fit your needs.
The key benefits of VoIP in comparison to legacy phones are
as follows: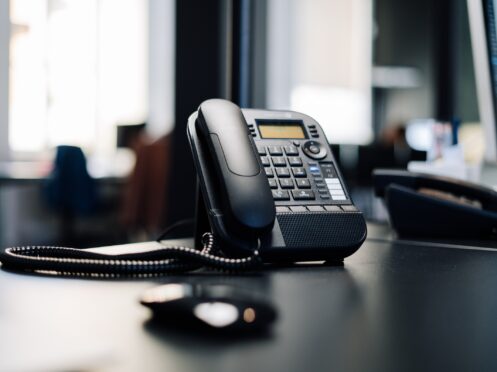 All voice and data traffic is integrated into one physical network, that can be shared with other computers and software phones, bypassing the need for separate equipment and cabling. This can bring significant savings when moving into a new office or renovating. These phone systems are less expensive to change or expand, and changes can be made by most semi-knowledgable users or remotely by our technicians at reduced costs. VoIP trunks also reduces the charge of subscription or usage, especially for long distance and international calls. These systems also come with a rich feature set, including auto attendant, voice mail, call queuing and more, options that are normally very expensive in proprietary systems.
A legacy phone system assigns a phone number with a dedicated line, so generally you cannot move your phone to another location if you want to use the same phone number. However, a VoIP PBX system provides mobility. You can use the same number anywhere in the world as long as you have an internet connection. Many business people today bring their hardware or softphones when travelling and use the same numbers everywhere. Wherever the phone goes, the same services are available, including call features, voicemail access, call logs, security features, service policy, and so on.
Scalability is a large concern for all businesses that are hoping to expand and legacy phone systems are easy to outgrow. Adding more phone lines or extensions often requires expensive hardware upgrades, in some cases you need an entirely new phone system. In contrast, VoIP phones systems can be instantly changed with the click of a mouse button, to add or remove phones or lines at any time.
Off-Premise Phone Systems
Normally, the phone system hardware, also called a private branch exchange or PBX, is located on the premises of the business. The key difference in the case of hosted or cloud VoIP PBX is this hardware is hosted or positioned elsewhere. Since the call platform as well as the PBX hardware is away, the cost of maintaining the PBX equipment is transferred to the host. Hosted IP PBX systems offer all the same features and benefits that on-premise systems do but are less expensive, less complex, and require less maintenance.
Does your phone systems do all this?
Alarm Receiver

Automated Attendant

Blacklists

Call Detail Records

Call Forward on Busy

Call Forward on No Answer

Call Forward Variable

Call Monitoring

Call Parking

Call Queuing

Call Recording

Call Routing (DID & ANI)

Call Transfer

Call Waiting
Caller ID Caller ID Blocking

Caller ID on Call Waiting

Calling Cards

Conference Bridging

Database Integration

Dial by Name

Direct Inward System Access

Distinctive Ring

Distributed Universal Number Discovery (DUNDi™)

Do Not Disturb

E911

ENUM
Fax Transmit and Receive

Flexible Extension Logic

Interactive Voice Response (IVR)

Local and Remote Call Agents

Macros

Music On Hold

Random or Linear Play

Mp3

Internet streamed

Predictive Dialer

Overhead Paging

Remote Call Pickup

Remote Office Support
Roaming Extensions

Route by Caller ID

SMS Messaging

Streaming Media Access

Supervised Transfer

Text-to-Speech (via Festival)

Three-way Calling

Trunking

VoIP Gateways

Voicemail:

Visual Indicator

Stutter Dial tone

Voicemail to email

Web Voicemail Interface
Top Reasons Customers Love Their VoIP Phone Systems
Design your VoIP business phone system your way. Choose the features and applications that work for your budget, with the ability to increase or decrease features immediately based on the needs of your business.
Even though we are happy to manage your system for you, you also have the power to make changes online within your own personal portal. Change your greeting, enable call routing, monitor usage with call accounting, and much more.
Network Your Office Locations
Communication between offices and remote workers has never been easier. With VoIP phone system technology, your offices and remote users are networked under one business phone system, saving both time and money.
Manage your new business phone system anywhere, anytime. VoIP/Cloud telephony solutions offer users the freedom of mobility without compromising business communication features and applications.
Most customers save upwards of 60% on their phone bill when switching to VoIP. Additional cost savings encompass minimizing onsite equipment, eliminating software upgrade fees, saving office space, reducing energy consumption, and networking office locations under
one system.